AWS Certified SysOps Administrator Practice Tests By Sara Perrott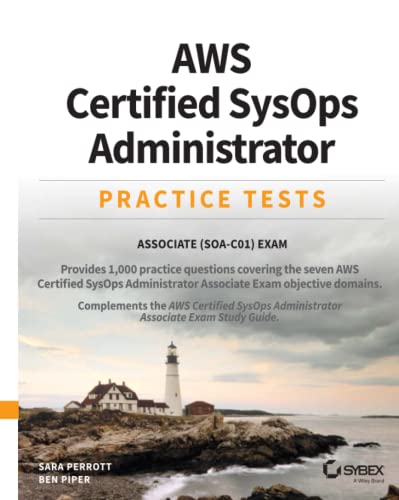 AWS Certified SysOps Administrator Practice Tests
N/A
5 in stock
---
AWS Certified SysOps Administrator Practice Tests Summary
---
AWS Certified SysOps Administrator Practice Tests: Associate SOA-C01 Exam by Sara Perrott
Study and prepare for the AWS Certified SysOps Administrator Associate (SOA-C01) Exam
You can prepare for test success with AWS Certified SysOps Administrator Practice Tests Associate (SOA-C01) Exam. It provides a total of 1,000 practice questions that get you ready for the exam. The majority of questions are found within seven practice tests, which correspond to the seven AWS Certified SysOps Administrator Associate SOA-C01 Exam objective domains. Additionally, you can take advantage of an extra practice exam, or utilize an online test bank as an additional study resource.
Practice tests allow you to demonstrate your knowledge and ability to:
Deploy, manage, and operate scalable and fault-tolerant systems on the service
Implement and control data flow as it goes to and from AWS
Choose the right AWS service depending upon requirements
Identify the proper use of AWS best practices during operations
Estimate AWS costs and pinpoint cost controls
Migrate workloads to Amazon Web Services
As someone working to deliver cloud-based solutions, you can earn an AWS Certification to demonstrate your expertise with the technology. The certification program recognizes proficiency in technical skills and knowledge related to best practices for building cloud-based applications with AWS.
Why buy from World of Books
About Sara Perrott
---
ABOUT THE AUTHORS
SARA PERROTT is an accredited AWS Academy instructor at Bellevue College where she is an adjunct professor. She works full-time in the cybersecurity field and is passionate about her work. She has an MS in Cybersecurity and Information Assurance and holds several industry certifications such as the CISSP and GCIH, in addition to the AWS Certified Solutions Architect Associate and AWS Certified SysOps Administrator Associate certifications. You can contact Sara via her website at: https: //www.saraperrott.com.
BEN PIPER is a cloud and networking consultant who has authored multiple books including the AWS Certified Solutions Architect Study Guide: Associate SAA-C01 Exam, Second Edition (Sybex, 2019) and the AWS Certified Cloud Practitioner Study Guide: CLF-C01 Exam (Sybex, 2019). He has created more than 20 training courses covering AWS and Cisco networking. You can contact Ben by visiting his website: https: //benpiper.com
Table of Contents
---
Introduction xvii Domain 1 Monitoring and Reporting 1 Domain 2 High Availability 41 Domain 3 Deployment and Provisioning 57 Domain 4 Storage and Data Management 83 Domain 5 Security and Compliance 105 Domain 6 Networking 139 Domain 7 Automation and Optimization 165 Domain 8 Practice Test 187 Appendix Answers to Practice Tests 199 Index 289
Additional information
AWS Certified SysOps Administrator Practice Tests: Associate SOA-C01 Exam by Sara Perrott
Book picture is for illustrative purposes only, actual binding, cover or edition may vary.
This is a new book - be the first to read this copy. With untouched pages and a perfect binding, your brand new copy is ready to be opened for the first time.